Table of Contents
Compaq Armada 7800
CPU: Mobile Pentium II 300 Mhz (Instruction set: x86, MMX, L2: 512KB, FSB: 66mhz)
RAM: 256MB
VGA: 4MB S3 ViRGE/MX 1024x768 TFT LCD https://retro.swarm.cz/s3-virge-325-vx-dx-gx-gx2-series-of-early-3d-accelerators-deep-dive/
Audio: ESS1879 AudioDrive
HDD: 10GB PATA-100 HDD
CD-ROM: No
Touchpad type: pointer
Lan: None
Wifi: None
USB Ports: 1x v1.0
irDA: yes
DC: Internal integrated
Battery: present, does not hold the charge
OS: Original compaq Windows 95 Edition
Armada is a discontinued line of business laptops by Compaq. They started as a more affordable version of the Contura line, but after that, they replaced Contura as a mainstream laptop line, and then the high-end Compaq LTE line were merged with Armada as a premium 7300 and 7700 sub-lines.
Released in the end of 1997 (1500 line) and 1998-1999 (all another lines). They had a new case design with a wavy palmrest.
There were value 1500 and 1700 lines (with touchpad), slim 3500 line and hi-end 7400 and 7800 lines (with pointing stick only). Only 1500/1700 lines can be purchased in consumer electronic shops, and only 1700 had a Windows 98 option instead of Windows 95. The 7400 and 7800 lines were upgraded and facelifted versions of 7300 and 7700 lines with the same dock options; the newer 3500 model had a personal dock option.
History
2022.06.29 12:20 AM Bought it from alegro.pl for €58.84
CMOS (BIOS) Battery
The case has to be opened, the soundboard removed to gain access to it.
The rechargeable battery to maintain hibernation is located in the middle where the LCD screen and the case meet, behind the LCD video connector.
You can use this practice when soldering CMOS batteries. Or you can use this practice to use it without any soldering.
Battery
Restore CD
Original restore cd for 7400/7800 armada models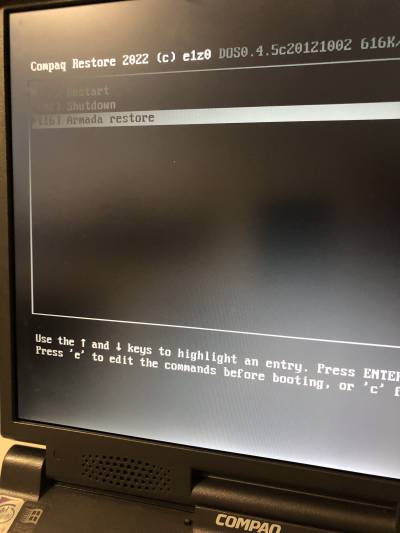 There i will write some tricky method, how to flash your laptop using usb flash drive. It's useful when your armada does not have nor cdrom nor floppy drive working, all you have is hdd and usb. You will need to remove your hard drive from laptop and connect it to some windows machine using some cheap adapter, than can be found on AliExpress. I will write down some easy steps for the whole operation.
Remove drive from your laptop.

Connect the drive to the windows machine using usb ide adapter (can be

bought here

).

Install

plop

boot loader to the HDD you removed from your laptop using

this tutorial

.

Your hdd is ready, put it back to the laptop.

You will also need to download usb flash image,

here

.

Insert flash to your windows machine and write that image file.

Safely remove the usb disk from your computer and insert it to laptop.

Boot usb from plop boot manager menu, the compaq restore utility should run.
When using flash drive, better use some 4/8GB well known products like kingston, Corsair, Adata. Try different sticks if it does not work for you. It works for me! It a bit tricky because the USB is version 1.1 it's slow and it does not work with all usb flash brands.
You will be prompted to enter your laptop's serial number, if you do not have one, you can use 7800BS8Z0000, also undocumented but available restore utility command line options:
LH A:\qr /M
LH A:\qr /fq
You can use these if your restore operation is somehow halted, not moving progress bar for some time or something went wrong, just reboot computer, boot from restore media, quit original restore utility by pressing ESC and run these commands.
Compaq Quick Restore CD Armada 7800 315115 002 ( Windows NT 4.0 With Service Pack 3)
Disassemble