Table of Contents
Compaq EVO N600C
Very nice and portable machine, fast and ergonomic, the screen bezels are so small for that time. Dos programs run in full screen stretched, without any cube in the middle of screen. There are three disadvantages, battery does not hold, ssd sometimes freezes the whole system and there are no wifi.
CPU: Intel Pentium III Mobile 1066mhz (Codename: Tualatin, Instruction set: x86, MMX, SSE, L2: 512KB, 133 FSB)
RAM: 256MB PC133 SDRAM Max 1GB
VGA: 16mb ATI Mobility Radeon Compaq AGP 4x (Internal DAC 166Mhz) 1024x768 TFT LCD Panel
Audio: ESS Allegro PCI Audio (WDM)
HDD: 60GB PATA-100 SSD
CD-ROM: Yes
Touchpad type: touchpad
Lan: Intel PRO/100 VE Network adapter 
Wifi: None
USB Ports: 2x v1.1
irDA: yes
DC: 18.5V 2.7A (universal charger compatible)
Battery: present, does not hold the charge
OS: Windows 98 Second Edition
History
2022.06.25 02:39 AM Bought it from alegro.pl for €21.35
CMOS (BIOS) Battery Replacement
You can use this practice when soldering CMOS batteries. Or you can use this practice to use it without any soldering.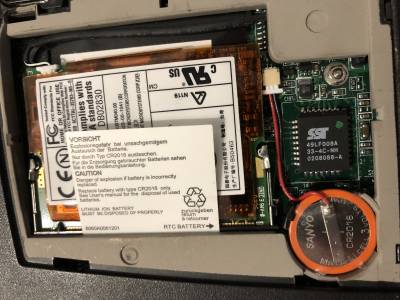 Drivers
Dissasembly
Battery Rebuild
There have been rumors that the logic board of the battery have been damaged, one thing i've found damaged was flexible cable, so i have to solder additional cable to make a fix. After battery have been rebuilt, the rumor that battery logic board is damaged was confirmed. Battery builtin button and leds do not indicate any signs of life and after inserted into computer it was detected as dead battery, with no charging or discharging capabilities. I will later do some research on it, but for now i have no spare time left to do this.
SoundCard in DOS
You can watch video how to setup here.
Download files from

here

as post attachement

Unpack files to C:\

Boot to dos command prompt

Run essinit.bat
Set the game settings:
Sound Blaster or Sound Blaster 2
Port Address 220
IRQ 5
DMA Channel 1
Sound FX To Mix 6