About iMac 2006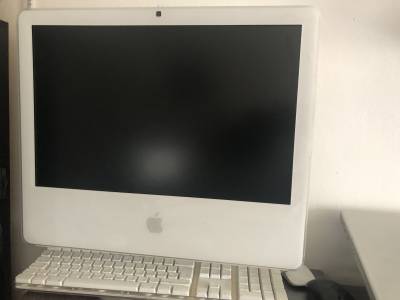 Was the first iMac model with Intel CPU (Central Processor Unit). iMac models featured either a white polycarbonate enclosure or an aluminum enclosure. At the Macworld Conference and Expo on January 10, 2006, Steve Jobs announced that the new iMac would be the first Macintosh to use an Intel CPU, the Core Duo. The introduction of the new iMac along with the Intel-based MacBook Pro was the start of the Mac transition to Intel processors. In the following months, the other Mac products followed, including the introduction of the Intel Core-powered Mac mini on February 28, 2006, the MacBook consumer line of laptop computers on May 16, 2006, the Mac Pro on August 7, 2006, and the Xserve in November 2006, completing the transition. The features, price, and case design remained unchanged from the iMac G5. The processor speed, however, according to tests run by Apple using SPEC, was declared to be two to three times faster than the iMac G5. In early February 2006, Apple confirmed reports of video display problems on the new Intel-based iMacs. When playing video on Apple's Front Row media browser, some 20-inch iMacs (those built-to-order with upgraded video cards) showed random horizontal lines, ghosting, video tearing and other problems. The problem was fixed with a software update. In early September 2006, Apple introduced a new version of the iMac including a Core 2 Duo chip and a lower price. Apple added a new 24-inch model with IPS-display and a resolution of 1920 × 1200 (WUXGA), making it the first iMac to be able to display 1080p content in its full resolution, and a VESA Flat Display Mounting Interface. Except for the 17-inch 1.83 GHz processor model, this version also included an 802.11n draft card.
Essentials
Family: iMac/eMac
Codename: ?
Gestalt ID: 406
Minimum OS: 10.4.7
Maximum OS: 10.7.5
Introduced: September 2006
Terminated: August 2007

Processor
CPU: Intel Mobile Core 2 Duo (T7xxx)
CPU Speed: 1.83/2.0/2.16 GHz
CPU Cores: 2
FPU: integrated
Bus Speed: 667 MHz
Register Width: 64-bit
Data Bus Width: 64-bit
Address Bus Width: 64-bit
Level 1 Cache: 32 kB data, 32 kB instruction
Level 2 Cache: 4 MB on-processor
ROM: EFI
RAM Type: PC2-5300 DDR2 SDRAM
Minimum RAM Speed: 667 MHz
RAM slots: 2
Maximum RAM: 3.0 GB

Video
Screen: 17/20/24" LCD
GPU: ATI Radeon X1600 (PCI Express)
VRAM: 128 MB (GDDR3)
Max Resolution: 1440x900/1680x1050/1920x1200
Video Out: mini-DVI
Camera: iSight

Storage
Hard Drive: 160/250 GB 7200 RPM
ATA Bus: Serial-ATA
Optical Drive: 24x/24x/8x/8x/4x/2.4x CD-RW/DVD±RW/DVD+R DL

Input/Output
USB: 3 2.0
Firewire: 2
Audio Out: stereo 24 bit mini, Optical S/PDIF
Audio In: stereo 24 bit mini, Optical S/PDIF
Speaker: stereo
Microphone: mono

Networking
Ethernet: 10/100/1000Base-T
Wi-Fi: 802.11b/g
Bluetooth: 2.0+EDR

Miscellaneous
Power: 180 Watts
Dimensions: 16.9" H x 16.8" W x 6.8" D
Weight: 15.5 lbs.

Notes
The 1.83 GHz model had an Intel Mobile Core 2 Duo T5600 CPU with 2 MB of L2 cache, used the Intel Intel GMA950 graphics chipset, 
had a 24x/24x/16x/8x CD-RW/DVD-ROM "Combo" drive, did not include Bluetooth, and supported a maximum of 2GB of RAM. 
Though reported as a 64 MB graphics system, the chipset actually used a minimum of 80 MB of RAM, 
resulting in a maximum of 432 MB of RAM available for system use in the base system. 
The 20" model had the following dimensions and weight: 18.6" H x 19.4" W x 7.4 D, 22 lbs. 
The 24" model used an NVIDIA GeForce 7300GT graphics card with 128 MB of VRAM 
(a 256MB NVIDIA GeForce 7600 GT was available as a BTO option), and had one FireWire 400 and one FireWire 800 port.
It had the following dimensions and weight: 20.6" H x 22.6" W x 8.1 D, 24.7 lbs.
History
2020 Bought it from local private person for 70eur.

2022.05.21 Bought Intel Core 2 Duo T7600 CPU Dual-Core 2.33GHz 4MB 667 MHz Socket M CPU from ebay for €36.26 total.

2022.08.22 Done cpu and firmware upgrade, also fixed broken speakers with glue.
SSD Speed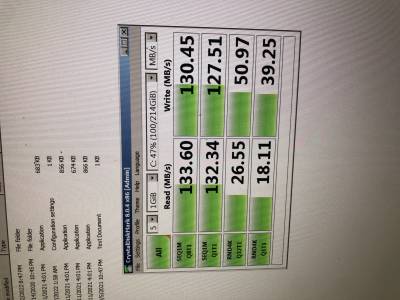 CPU Upgrade possibilities
It's possible to upgrade these with up to a 2.33 GHz Core 2 Duo Merom CPU. These are your Core 2 Duo CPU upgrade options:
2.0 GHz Intel T7200, 4 MB cache

2.16 GHz Intel T7400, 4 MB cache

2.33 GHz Intel T7600, 4 MB cache
Only consider the 2.0 GHz T7200 if you have a Core Duo iMac or the 1.83 GHz Core 2 Duo model. With its larger cache and more efficient CPU, it will give a modest performance boost for about $3 shipped – about 7% better than 2.0 GHz Core Duo and 15% better than 1.83 GHz. Be sure to get good thermal paste, such as Arctic Silver.
The 2.16 GHz T7400 provides maybe 5% more overall power than the T7200, and you can often find it for under $9 shipped on eBay. Definitely worth it for the 1.83 GHz iMacs and the 2.0 GHz Core Duo – maybe not worth the effort on the 2.0 GHz Core 2 iMac.
For the maximum speed on these iMacs, you're looking at the 2.33 GHz T7600, which provides a 16% speed boost for the 2.0 GHz Core 2 model and over 25% for the 1.83 GHz iMacs. Again, it may not be as worthwhile for the 2.16 GHz model, as this is only about a 6% difference in benchmark scores.
Tutorial
Firmware Upgrade possibilities
Note that upgrading a Core Duo iMac with a Core 2 Duo CPU does not allow it to use more than 2 GB of RAM or install Mac OS X 10.7 Lion unless you update the EFI firmware to version 5,1. Be sure to install the Core 2 Duo CPU before performing the firmware update, which makes it the equivalent of a native Core 2 Duo iMac, so you can install 4 GB of memory and/or OS X Lion.
Tutorial
First up, you need to upgrade the firmware on you iMac4,1 to iMac5,1. Unzip this file in a location of your choice on your iMac in MacOS:
Unfortunately this tool no longer works properly as the URL to download the firmware has been changed. It gives "error 5530". However, here is a workaround from the source forum; it's pretty straightforward.
STEP A - Download EFI updates
STEP B - Rename downloaded .dmg files
Efi update 1.1: iMacFirmwareUpdate.dmg → rename to → iMacEFIiMac41.dmg

Efi update 1.2: iMacFirmwareUpdate1.2.dmg → rename to → iMacEFIiMac51.dmg
STEP C - Run iMac41-iMac51 Firmware Tool
Run it as usual. It will report error 5530 as before and it will create on desktop a RamDisk volume. DO NOT EXPULSE IT!
STEP D - Copy files to RamDisk
Select "iMac41-iMac51 Firmware Tool.app", right click and then click on "Show packet content" Copy the following files to "/Volumes/RamDisk":
ExtractAndPatchEFIFiles.sh
iMac41EFIUpdater.patch
iMac51EFIUpdater.patch
UpdateEFIiMac41-iMac51.sh
Also remember to copy the two downloaded .dmg from Apple than you have already renamed: iMacEFIiMac41.dmg and iMacEFIiMac51.dmg
STEP E - Lets do the Magic
Open a terminal and drag and drop on it the ExtractAndPatchEFIFiles.sh script. Then run it and wait until everything finish Open a terminal, type sudo and then drag and drop the UpdateEFIiMac41-iMac51.sh script:
sudo /Volumes/Ramdisk/UpdateEFIiMac41-iMac51.sh
Then run it and wait until everything finishes (at the end it should report that return code is 0, which means that everything worked correctly).
STEP F - Shutdown
Shutdown the iMac Turn it on and keep pressed power button until the iMac light ENDS blinking You will hear a BEEP sound The iMac will start the EFI update (a progress bar should be displayed) Wait the EFI update to complete and….. Voila!
SSD Trim support
Open the terminal and type the following commands:
cd /System/Library/Extensions/IOAHCIFamily.kext/Contents/PlugIns/IOAHCIBlockStorage.kext/Contents/MacOS/ 
sudo cp -pX IOAHCIBlockStorage ~IOAHCIBlockStorage 
sudo perl -pi -e \
's|\x41\x50\x50\x4c\x45\x20\x53\x53\x44|\x00\x00\x00\x00\x00\x00\x00\x00\x00|g' \
IOAHCIBlockStorage 
sudo rm /System/Library/Caches/com.apple.kext.caches/Startup/Extensions.mkext
sudo touch /System/Library/Extensions/
Reboot
---
Original source of upgrade tutorials can be found here. There are also the tutorial how to install Windows 10 on this iMac.