Table of Contents
CPU: Intel Atom CPU Z520 1.33 Ghz (2 Cores) 512 KB Cache
Ram: 1GB
Graphics: Intel US15W/US15X SCH Poulsbo (Intel GMA 500) 253 MB 1024x600
Audio: Intel US15W/US15X/US15L/UL11L SCH Poulsbo
Storage: SanDisk pSSD-P2 32GB (dead) 40-pin 1.8 Zif Disk
Wifi: Marvell SD8686 Connected via internal SDIO interface
Bluetooth: Exists, not known stack yet
3G: Huawei Mobile Boardband Model EM770W HSPA Module
Battery: 10000 mAh (supposedly)
DC IN: 5V 3A
Original OS: Windows 7 Home Premium
Disassembly
VGA Driver (patched)
YushatakDriverXMkII.rar

this driver will allow you to change resolution to 640×480 and use 256 of colors (the default driver does not allow this). So the older software and games will work fine, for example.: starcraft (screenshot below). :)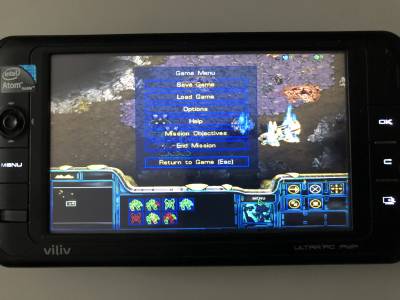 Replacing the SSD
As the internal SSD was completely dead i need a new one. The requirements for the new ssd:
5mm thick

Half of 1.8 Form factor

40pin PATA connector via flexible cable
Compatible SSD's i found:
History
2023.11.12 Bought it from local dealer for 50 €, he assured me that it would only be necessary to reinstall the os.

2023.11.14 Received the item, it works turns on and thats all, The error appears on windows xp setup and shows that it could not access the disk, the further testing will be made tomorrow.

2023.11.15 I Have verified that the internal SSD is completely dead and wrote the seller about the issues with the product, he returned me 15 €, for a problems that i have deal with. Besides the SSD everything works smoothly, i have managed to install Win7 to MicroSD card connected to the USB adapter connected to the USB hub with keyboard and mouse, installed the drivers and Wifi/Screen/Touch/Sound works perfectly, had no further testing but it's nice to see how this device is handy even at these times, it's dual core Intel Atom Z520 1.33 Ghz with 1GB of ram. It not so much but it's enough, i even have managed to run starcraft in windowed mode, some problems in scaling screen to 640×480 to run it perfectly..