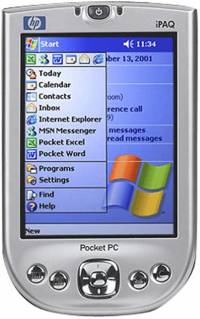 What is Pocket PC?
A Pocket PC (P/PC, PPC) is a class of personal digital assistant (PDA) that runs the Windows Mobile or Windows Embedded Compact operating system that has some of the abilities of modern desktop PCs. The name was introduced by Microsoft in 2000 as a rebranding of the Palm-size PC category. Some of these devices also had integrated phone and data capabilities, which were called Pocket PC Phone Edition or simply "Smartphone".
As of 2010, thousands of applications existed for handhelds adhering to the Microsoft Pocket PC specification, many of which were freeware. Microsoft-compliant Pocket PCs can be used with many add-ons such as GPS receivers, barcode readers, RFID readers, and cameras.
In 2007, with the advent of Windows Mobile 6.0, Microsoft dropped the name Pocket PC in favor of a new naming scheme:
Windows Mobile Classic

(formerly

Pocket PC

):

devices

without an integrated phone;

Windows Mobile Professional (formerly Pocket PC Phone Edition): devices with an integrated phone and a touch screen;

Windows Mobile Standard (formerly Smartphone): devices with an integrated phone but without a touch screen.
Pocket PC was replaced by Windows Phone in 2010 but even after versions were released based on the Windows NT kernel were ultimately unable to compete with the IPhone of 2007 and Android phones and interested waned in Pocket PC's without phones.
Convert GPS Navigator to PDA
Usually a Windows CE based GPS Navigator device has a logo sticker on it's back, where it's written "Windows CE" or "Windows Embedded CE", that means it runs Windows CE. After the unit boots, custom GPS software is loaded automatically. It's possible to let it go into the Windows CE desktop shell. You can use this JailBreak method, or use more promising solution called MioPocket.
MioPocket (MEE-oh-pok-it) is an "unlock" for GPS devices (aka PNAs) running Windows CE. Such devices almost always boot into the manufacturer's software with no way to exit it, meaning that you cannot run any other software; i.e. the device is "locked." Unlocking your device allows you to use it for far more than the manufacturer intended (ex. for music, movies, appointments, other navigation apps, etc.) and more like a PDA. MioPocket is the most-packed and most-fully-featured unlock for PNAs available and is free and legal to use, as it consists 100% of freely-distributable content. What MioPocket is not is a replacement for MioMap, Mobile Navigator or any other OEM navigation software. It is just a frontend from which you may launch the navigation software that came with your device or that you purchase separately.